7.3 M C Band Earth Station Antenna ——In the Sudan
7.3 M C-band Earth Station Antenna
——In the Sudan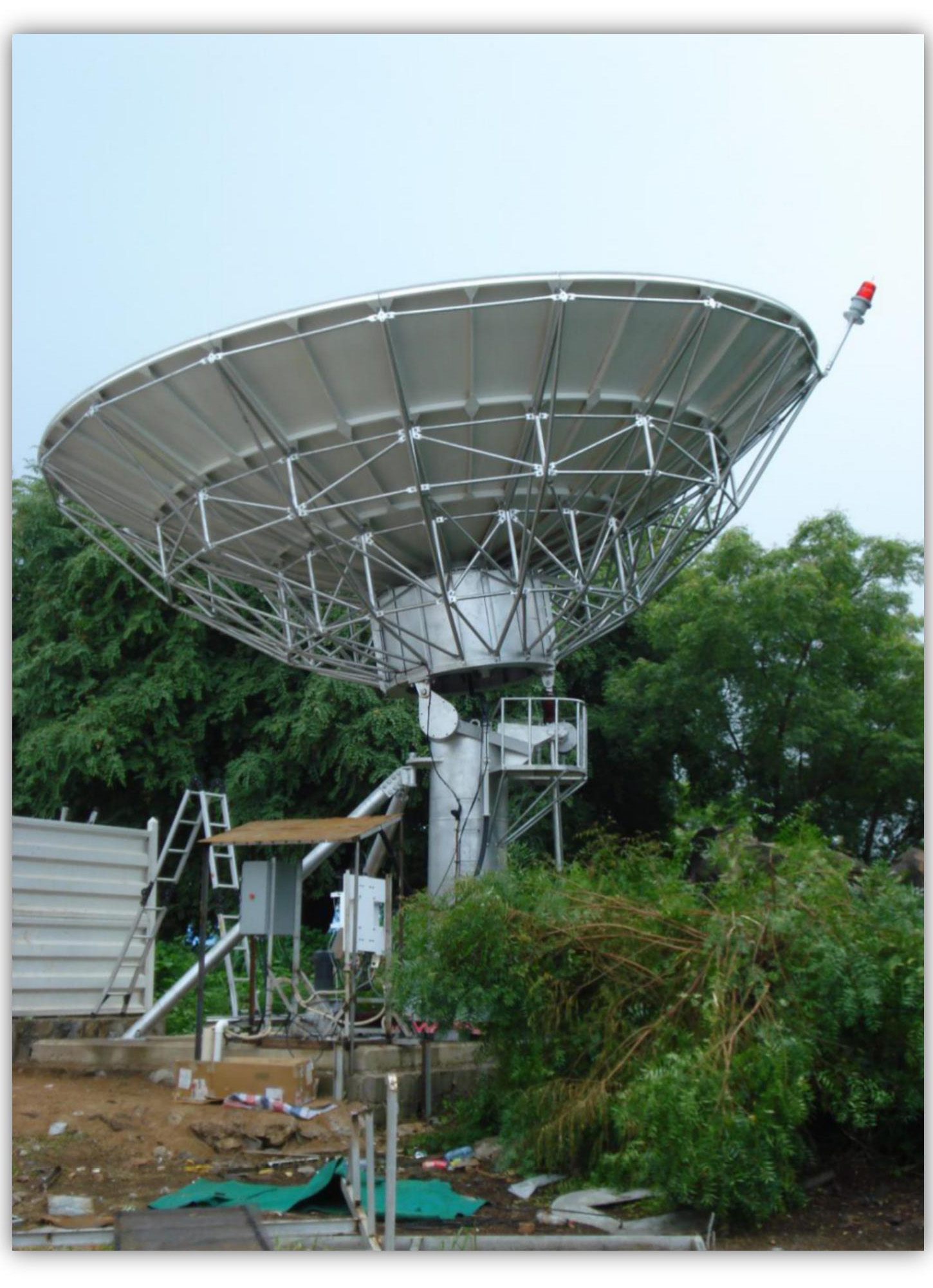 G
e
nera
Background
Probecom 7.3 Meter C-band earth station antenna adopts all aluminum re-enforced reflectors, consisting of precisely formed panels with matched radials and hub assemblies ensure the ease of installation. The standard designed azimuth over elevation pedestal provides a cost-effective solution for high stiffness and stability, full orbital arc coverage and fine drive performance, and ensures the pointing accuracy for C-Band Tx/Rx operations.
7.3-meter C-band earth station antenna, which uses a shaped parabolic reflector, provides high gain and exceptional pattern characteristics as well as low VSWR. Its electric performance meets the FCC regulation 25.209, IESS (Intelsat), or ITU-RS Recommendation 580 sidelobe specification (domestic and international standards). The main reflector surface is comprised of 16 individual adjustable aluminum panels. The panels of the main reflector are comprised of aluminum sheets and ribs which are stretch-formed, and are riveted on the special mould. The 7.3m antenna structure consists of the pedestal, reflector, sub reflector and the feed system, as shown in Fig.
Highlighted features
*Meets CCIR 580 and INTELSAT Requirements
*CP/LP switchable feed
*High RF performance
*Stainless hardware
*Different frequency ranges from many feed configurations
* Antenna reflector be pre-assembly in works, special designed taper-pin
easy installation and ensure on site assembly accuracy, no theodolite required
Electrical Specification
Type

C73T

Operating Frequency, /GHz

C-band

RX

TX

3.625~4.2

5.85~6.425

Gain, Mid-band/dB

47.4

51.5

Polarization

Circular

Axis Raito, dB

0.5

XPD/dB, on Axis

33

33

-3dB beam Width,

0.68°

0.43°

Isolation, Tx to Rx, dB

Rx to Rx, dB

Tx to Tx, dB

85

30

20

Sidelobes

-14dB, CCIR 580-4

VSWR

1.25

1.25
Install
ation on the site
Antenna Accessory
-Motorization Kits
-Limit Switches
-ODU Support Kits
-Factory Feed System Testing and Documentation
-Ocean /Air Transport Packing
-Foundation Kit
-Lightening Rod Kit
-Grounding Kit
-Cable-Mounting Kit
- Anti-icing and Deicing
Co
nclusion
Probecom 7.3 Meter C-band earth station antenna can deliver superior performance for a series of communication applications such as Broadcasters, Service Providers, GSM operator and Satellite Operator in the Sudan.