3.7m X Band Earth Station Antenna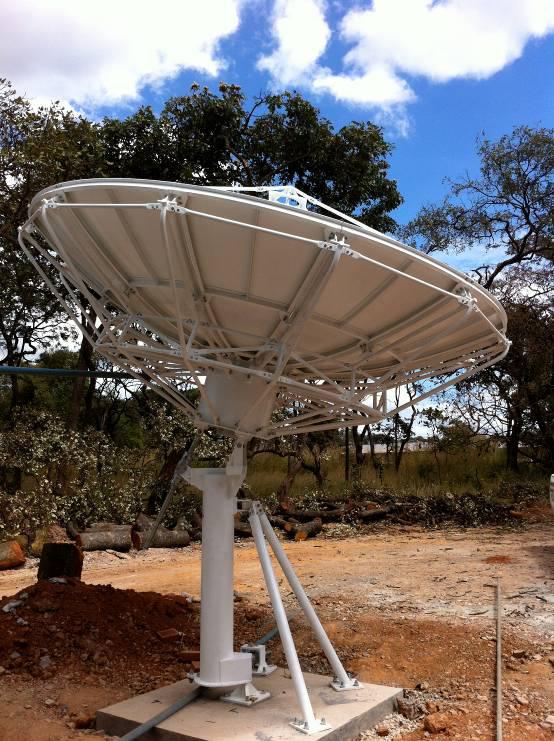 DESCRIPTION
TECHNICAL
SPECIFICATIONS
1. General Description
Probecom 3.7Meter Ring-focus antenna providing Tx/Rx 2-port feed linear & circular polarization for C-band, 3.7m Ku band antenna only for linear polarization, can deliver exceptionally high performance for transmit/receive applications.
Probecom 3.7 M antenna RF specification can adhere to FCC Regulation25.209,IESS and ITU-RS.580-5,INMARSAT, ASIASAT,INTELSAT, APT and CHINASAT, etc.
Probecom 3.7M antenna reflector incorporates stretch-formed doubly contoured panels with matched radials and hub for ease of field alignment. The standard designed azimuth over elevation pedestal provides a cost-effective solution for high stiffness and stability, full orbital arc coverage and fine drive performance, and ensures the pointing accuracy required for Ku-band operation.
2. Highlighted Features
*Meets CCIR 580 and INTELSAT Requirements
*CP/LP switchable feed
*High RF performance
*Galvanized Stainless steel hardware
*Different frequency ranges from many feed configurations
3. Options
*L,S,X bands and multi-bands
*800MHz bandwidth is available
*Feed blower or deicing with automatic controls
*Two or four Tx/Rx port in linear polarized feeds
4. Antenna Accessory
*Motorization Kits
*Limit Switches
*ODU Support Kits
*Factory Feed System Testing and Documentation
*Ocean /Air Transport Packing
*Foundation Kit
*Lightening Rod Kit
*Grounding Kit Cable-Mounting Kit
*Anti-icing and Deicing
5. Electrical, Mechanical, Enviromental Specification
Type

SX037TCP2X

Operating Frequency, GHz

X- Band

Receive

Transmit

7.25~7.75

7.9~8.4

Gain, Mid-band, dBi

47.05

47.77

Polarization

Circular

Axial Ratio 2-Port Feed

1.15 : 1

1.1 : 1

VSWR

1.30 : 1

1.30 : 1

Antenna Noise Temperature

10° Elevation

30° Elevation

50° Elevation

45K

38K

34K

-3 dB Beam Width, Mid-band

0.72°

0.66°

Typical G/T(EL>10°)2-Port

28.2dB/K (30° LNA)

Tx. Power Capability, KW

1

Feed Interface

WR-112

WR-112

Feed Insertion Loss, dB

0.5

0.5

Isolation, Rx to Tx, dB

Isolation, Tx to Rx, dB

80

80

First Side lobe

90% Peaks under Following Envelop

-14

29-25logθ(1°≤θ<20°)

Mechanical Specification

Antenna Diameter

3.7m

Antenna Type

Ring Focus

Surface Accuracy(RMS)

≤0.5mm

Antenna Pointing Range

Azimuth

Elevation

Polarization

±85°

0°~90°(Continuous)

±90°(Continuous)

Drive Mode

Motorized / Manual

Motor Drive System

Azimuth Travel Rate

Elevation Travel Rate

0.11°/S(0.06°/S)

0.15°/S(0.08°/S)

Environmental Specification

Operational Wind

Survival Wind

200km/h

Temperature

-40°~+60°

Relative Humidity

100%

Solar Radiation

1135Kcal/h/m²

Seismic(Survival)

0.3g(H), 0.15g(V)

Ice Loading

13mm Operational; 25mm Survival